Innate wellness - july health program....
Hello again and welcome back to the Innate Wellness Program. We feel it's timely that we re-engage with you all as we live through lockdown 2.0. Having the benefit of hindsight, we all know how hard it is to again be limited in our movements within our own communities. It's challenging physically, mentally and emotionally and so it's fundamental that we continue to focus on promoting good health and fitness.
So as we roll in to our monthly program, we want to give you a guided approach to your exercise and nutrition. Each month we will encourage a framework that fosters holistic health and fitness gains in order to be the best version of yourself!
As a trainer, many people ask me what I do to keep fit? Getting the balance right is key to avoid overtraining and injury. I generally like to do a cardio session, a strength session and a Pilates session each week. Alongside this, getting outdoors to go for a walk, play golf or go for a bike ride is hugely beneficial for your physical and mental health. So going forward, let's look at each of these categories in its entirety. This month we will discuss the benefits of strength training:
Strength training:
Adding some resistance training is vital to slow muscle loss as we age. Research has shown that from our mid to late 20's we begin to lose muscle mass, however as we enter our 60's we see a significant loss. When we lose muscle, we have less stability and control to perform functional daily activities. Our muscles work synergistically with our bones and joints in order for us to move freely. As we age our joints can become weak, stiff and sore unless we include physical activity. Weak joints are more vulnerable to injury from falls, twists or even picking up the groceries. I'm sure many of you have heard of people 'doing their back' from tying a shoelace – whilst this was the catalyst for the injury, it was actually a weakness or imbalance at the joint over time that has lead to the insult.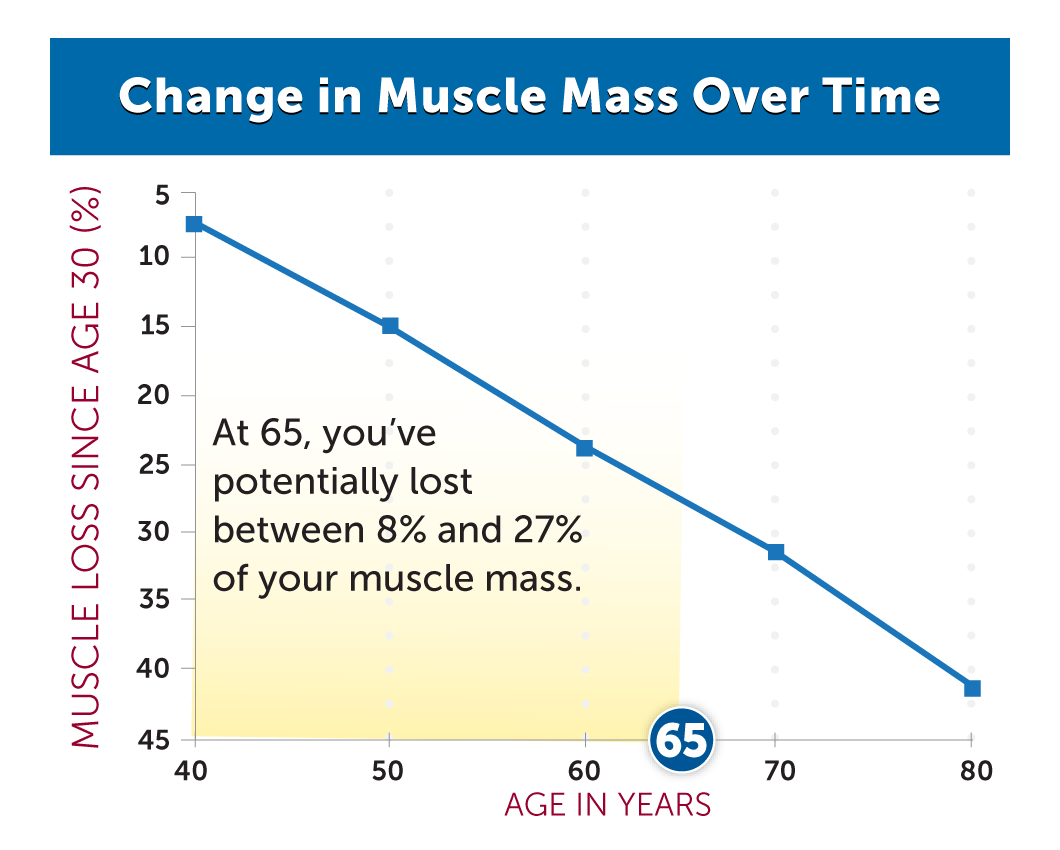 Enhancements through strength training can help protect your body when twisting or falling and also helps your endurance in daily activities such as mowing the lawns. A strong frame has a better capacity to prevent injury through enhanced strength, balance and proprioception.
Further to this, strength training increases bone density which may help prevent osteoporosis. When we activate muscles, we place a greater load on the bone it attaches to. Bones respond when an increased load is placed upon them, making them work harder and strengthening their framework. Osteoporosis more commonly affects women in Australia, with 1 in 4 women over 75 being affected.
In 2016-17 there were 85,509 presentations to hospital for minor trauma fractures with the hip being the most common (31% of fractures). It is reported that it is 'underdiagnosed' in Australia, with about 3.8% of the population known to be affected with the condition. More muscle mass, stronger bones, and well-balanced bodies are essential for avoiding osteoporosis.
And what about weight management? As we age, it's harder to maintain weight as our metabolism naturally declines. We are generally less active and have less lean muscle when we're older which are the major contributors to a slowed metabolism. Lean muscle is more metabolically active than any other tissue. This means that with a greater muscle mass, our metabolic rate is increased which correlates to burning more calories even at rest! Maintaining lean muscle through strength training naturally increases your metabolism which can help in weight management.

Well there's just a few reasons to add resistance training to your schedule. It doesn't necessarily mean lifting weights, it may be as simple as doing push ups, squats and lunges – all great body weight exercises to build strength!
What about nutrition to complement your strength training?
The nutrition focus to complement strength training is protein. This macronutrient plays a vital role in our body for functions such as:
Growth and maintenance – protein forms the building block for most body structures including skin, hair, bones, muscles, tendons, membranes and blood. Repair and maintenance of all of these tissues depends on dietary protein.
Digestion – all our enzymes used in digestion are made of protein.
Hormone production – many of our hormones are built from proteins including vital ones such as insulin.
Immunity – antibodies are made of protein, a vital part of our immune defence
Fluid and electrolyte balance – proteins in the blood help to maintain fluid and pH balance
Transportation – various substances such as fats, vitamins, minerals and oxygen are transported by proteins.
The recommended daily intake for protein in Australia is to have 2-3 serves of foods from the meat, poultry, fish and alternatives group each day. In terms of amounts, the following are recommended for the 19-70 year old age group:
Men: 64grams per day (0.84g/kg)
Women: 46 grams per day (0.75g/kg)
It is advised that no more than 25% of our daily energy intake should be derived from protein.
It's important to get protein from both plant and animal sources. In fact there is now more focus on plant based proteins as more and more people reduce their meat intake. Good sources of protein include:
Animal sources such as meat, fish, eggs, dairy and poultry. You should aim to have lean cuts of meat and low fat dairy to limit your saturated fat intake.
Vegetable sources such as nuts, seeds, miso, seaweed, algae, legumes and beans

I have consulted with my local nutritionist Lisa Stanton-Smith who has put a few recipes togther for you to try at home. Each meal has an an exert on why it's nutritionally beneficial also - I hope you enjoy them!

Breakfast:
Mushroom & leak omelette
Ingredients: (serves 1)
2-3 eggs
1 cup chopped mushrooms (approx. 3-4 button mushrooms)
½ leek – thinly sliced
extra veg (optional – but I added some diced capsicum)
2 Tbsp. grated cheese (any hard cheese or goats cheese works well)
Drizzle of olive oil
Method:
Place a small plan on medium heat. Add olive oil, leek, mushroom and extra veg if using. Place the lid on the pan and leave to sauté for 2-3 minutes. Remove lid and give the veggies a stir to allow even browning. Continue to sauté with lid off for a further 2-3 minutes or until most of the veggies are lightly browned and cooked through. Remove everything from the pan, and place it on a small plate or bowl.
Return the pan to heat. In a separate bowl whisk eggs, and then pour into the pan. Swirl the pan around a little to allow the eggs to cover the entire pan. Then leave to cook for about 1 minute.
Add the veggies to approx. one half of the pan, and top with cheese. Then gently fold the other half of the eggs over the top of the veggies & cheese. Cover the pan, and leave to cook for a further 2-3 minutes. This ensures the egg is fully cooked and the cheese is melted.
Serve with some fresh herbs and/or leafy green veggies.
Why it's good:
Mushrooms contain powerful immune boosting nutrients.
Leek is a great source of prebiotic fibre: feeding the beneficial strains of microbes found in the gut.
Eggs are one of the few food sources of vitamin D: another essential nutrient for the immune system. They also contain healthy amounts of fat and protein, meaning you won't be hungry for hours later.
Cheese is a great source of protein and calcium and makes everything taste better.

Lunch:
Quinoa Greens Risotto
Ingredients (serves 2-4 depending on energy requirements)
1 Tbsp. olive oil
1 cup quinoa
1 leek
2 cloves of garlic
2 cups of water
1 large head of broccoli
1 cup frozen peas
4 tsp. veggie broth powder concentrate (such as Nutra Organics)
1 Tbsp. cashew butter
½ cup loosely packed grated tasty cheese
1 large handful of finely chopped fresh mint (I used spearmint)
Method:
Rinse quinoa thoroughly using a flour sieve (otherwise you end up losing half the quinoa through a colander). Set aside to drain.
In a medium sized pot, add olive oil, leek & garlic. On medium heat, cover the pot and leave to sauté for 2-3 minutes. Remove lid and continue to sauté for a further minute or so, stirring occasionally to allow light browning of leek & garlic.
Add quinoa, water & veggie broth and stir through to combine. Place the lid on the pot to simmer for 5 minutes. In the meantime, finely chop broccoli. If you have a food processor you can use this, however I prefer less dishes, so just use a knife and chop it fairly small. Add the broccoli & peas to the pan, and stir everything through. Leave to simmer for a further 10 minutes on low heat.
Add cashew butter, mint & cheese and stir everything through again. Cook for a further 3-4 minutes, then remove from heat and allow to 'rest' for 5 -10 minutes (with lid on still).
Serve with extra fresh mint and/or a side of leafy green veggies if desired.
Why it's good:
Quinoa is a great source of wholegrains that is also high in protein.
Leek & garlic are full of prebiotic fibre: great for feeding our gut bugs, as well as containing immune boosting properties.
Broccoli is high in sulphur, an important mineral for liver detoxification. It's also high in fibre & a number of other nutrients.
Peas are also high in protein (as far as veggies are concerned), so when combined with quinoa & cheese make a great plant based meal option.
Cashew butter adds some essential fats, as well as increasing the fibre content as well. Our microbiome will love this meal.
Dinner:
Slow cooked Bolognese with chickpea pasta
Ingredients: (serves 4-6)
400-600g beef brisket (step away from the mince aisle)
1 jar of passata (700-800ml)
1 large onion
2-3 cloves of garlic
100g mushrooms
1 Tbsp. fresh herbs chopped (thyme, rosemary & oregano are great) or 1 tsp. Italian herbs dried.
1 tsp. paprika
10 olives
1 chilli
250g chickpea pasta (or 300g of wholegrain or buckwheat penne pasta)
Olive oil
Method:
Plug in & turn on (I've frustratingly missed this step before and come home to an uncooked meal!) your slow cooker. Add a drizzle of olive oil to the slow cooker, and top with finely chopped onion, garlic and the remainder of ingredients (except the pasta – leave this for later). You may need an extra 500ml of water if the beef is not completely immersed in liquid. Put the lid on the slow cooker and leave to cook on high for 5-6 hours. You can leave it for longer if preferred, but add extra liquid if you're going to be out all day.
About 30 minutes before wanting to eat, shred the beef using two forks. This can be done whilst everything is still in the slow cooker. Then add the pasta, and place the lid back on the slow cooker. Leave to cook on low heat for a final 30 minutes.
Serve as is, or with a side salad for an extra hit of veggies. You'll never go back to mince meat after trying this. Top with some parmesan cheese if desired.
Why it's good:
Beef is a great source of protein and iron, and when slow cooked is much easier to digest.
Tomatoes (found in the passata) are high in antioxidants, and are particularly supportive of prostate health.
Mushrooms are full of immune boosting nutrients and are also high in gut loving fibre.
Chickpea pasta is high in protein and fibre, and adds a nice nutty flavor to the dish.
This is a great hearty dish for winter that won't derail your health goals.
So to conclude, your focus for this month is strength and resistance training whilst also looking in to your protein intake. I have added 4 workouts for you do at your own leisure.
The idea is that you do a mix of the 4 different workouts.
Here's an example over 4 weeks:
Week 1: I think Pilates if fundamental to strength as the core activation in this class will really help your posture and ensure you lift correctly. You should aim to this once per week. Try adding a cardio session also and if the weather permits, get outdoors and go for a walk!
Week 2: Try and continue with the Pilates and the cardio whilst adding another class such as strength. For the strength workout, just use some cans of food you have in your pantry as light weights are perfect for this workout.
Week 3: Try the Pilates, strength and then the yoga this week. These forms are great for low impact workouts as well as encouraging stretching and strengthening.
Week 4: Mix it up and do what you love! You have tried all of them now, it may be too much for you to do all 4 workouts so focus on the ones you got the most benefit from and consolidate your technique
As always, feel free to email me to discuss anything further: Kelly.nicholas@ifsg.com.au
Until next time, Kel 😊
Workout 3: cardio shadow boxing
More about Kelly Nicholas

Kelly Nicholas holds a Health Science Degree in Paramedicine and currently works as a Paramedic for Ambulance Victoria. Kelly is also a qualified personal trainer with a Bachelor Degree in Exercise Science and has completed a specialisation in nutrition for exercise professionals. Kelly and her business partner Louise Moss, run Change it up Training - a small business specialising in training and motivating others to be the best/healthiest version of themselves.